Fedhz Polvoron now in US!
Waaaaaaaaaaah it's only been two weeks and our 3 large packs of polvoron that Fedhz gave us were already  finished as in gone, eaten, no more! Huhuhuhuhuhu :((
I though it would last atleast one month or so but hell no! My Kids were like eating  popcorns! My husband love it also so I am giving him 3 pieces (i-love-you) a day in his pack lunch. It's his dessert every after meal. But I have no more polvoron, calling calling my friends back there in Pinas can somebody buy from Fedhz and send some here in US, LOL.
hmmm yum yum Fedhz polvoron!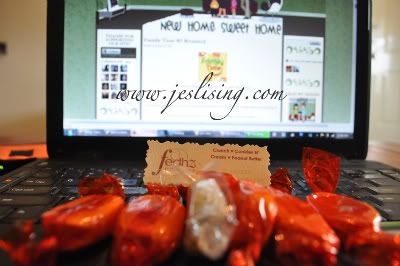 I must confess I am eating it like a popcorn too esp. when blogging! 😛
Ishi is the mastermind, she always have the polvoron infront of her!
I wish I have more fedhz' polvoron huhuhuhuhu, Ishi was asking me to buy some polvoron, there maybe a polvoron in pinoy store here butone thing is for sure, that's expensive and not as yummy as fedhz' polvoron 🙁
I am craving for moooooooooooooooooooooooooooore!!!!